Details

Written by

Brandon M Heishman

Category: Weather Reports
Hits: 179
Published: 2/13/2021 @ 4:55 PM – Updated: 2/13/2021 @ 4:55 PM
Wind Chill Advisory Issued by NWS NorthernIndiana (Northern Indiana and Northeastern Ohio)
Indiana Target Area: Pulaski and White Counties.
WIND CHILL ADVISORY REMAINS IN EFFECT FROM 1 AM TO 1 PM EST SUNDAY.

*WHAT: Very cold wind chills expected. Wind chills as low as 20 below zero.

*WHERE: Pulaski and White Counties.

*WHEN: From 1 AM to 1 PM EST Sunday.

*IMPACTS: The cold wind chills could cause frostbite on exposed skin in as little as 30 minutes.
Instructions: Use caution while traveling outside. Wear appropriate clothing, a hat, gloves, and wear the clothing in layers.
Details

Written by

Brandon M Heishman

Category: Weather Reports
Hits: 478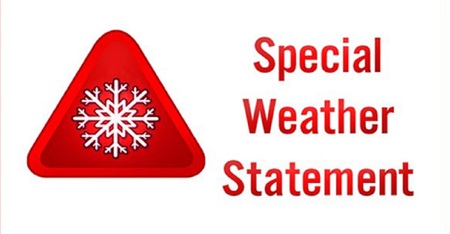 Published: 2/10/2021 @ 8:27 PM – Updated: 2/10/2021 @ 8:27 PM
Special Weather Statement Issued by NWS NorthernIndiana (Northern Indiana and Northeastern Ohio)
Indiana Target Area: Adams, Allen, Blackford, Cass, De Kalb, Elkhart, Fulton, Grant, Huntington, Jay, Kosciusko, La Porte, Lagrange, Marshall, Miami, Noble, Pulaski, St. Joseph, Starke, Steuben, Wabash, Wells, White, and Whitley Counties.
SLICK SPOTS POSSIBLE TONIGHT.
Cold temperatures dropping through the teens towards the single digits tonight with lingering snow showers in spots have made roads slick, especially secondary roads.
Instructions: Be sure to use caution while driving. Slow down and leave extra room between you and the car in front of you.