Details

Written by

Brandon M Heishman

Category: Weather Reports
Hits: 348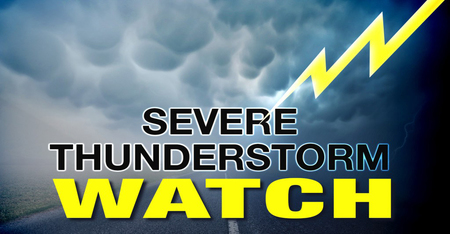 Published: 6/26/2020 @ 11:50 PM – Updated: 6/26/2020 @ 11:50 PM
Severe Thunderstorm Watch Issued by NWS NorthernIndiana (Northern Indiana and Northeastern Ohio)
Indiana Target Area: Allen, De Kalb, Elkhart, Fulton, Kosciusko, Lagrange, Marshall, Noble, Pulaski, Starke, Steuben, and Whitley Counties.
SEVERE THUNDERSTORM WATCH 307 REMAINS VALID UNTIL 5 AM EDT /4 AM CDT/ SATURDAY FOR THE FOLLOWING AREAS IN INDIANA THIS WATCH INCLUDES 12 COUNTIES.

IN NORTHERN INDIANA: ALLEN IN, DE KALB, ELKHART, FULTON IN, KOSCIUSKO, LAGRANGE, MARSHALL, NOBLE, PULASKI, STARKE, STEUBEN, and WHITLEY COUNTIES. 
IN MICHIGAN THIS WATCH INCLUDES 2 COUNTIES IN SOUTHWEST MICHIGAN: BRANCH, and HILLSDALE COUNTIES. 
IN OHIO THIS WATCH INCLUDES 5 COUNTIES IN NORTHWEST OHIO: DEFIANCE, FULTON OH,  HENRY, PAULDING, and WILLIAMS COUNTIES.
THIS INCLUDES THE CITIES OF: AKRON, ALBION, ANGOLA, ANTWERP, ARCHBOLD, AUBURN, BASS LAKE, BREMEN, BRONSON, BRYAN, COLDWATER, COLUMBIA CITY, CULVER, DEFIANCE, DELTA, DESHLER, EDGERTON, ELKHART, FORT WAYNE, FRANCESVILLE, FREMONT, GARRETT, GOSHEN, HICKSVILLE, HILLSDALE, JONESVILLE, KENDALLVILLE, KNOX, LAGRANGE, LIBERTY CENTER, LIGONIER, LITCHFIELD, MEDARYVILLE, MENTONE, MONTPELIER, NAPOLEON, NAPPANEE, NEW HAVEN, NORTH JUDSON, PAULDING, PAYNE, PLYMOUTH, ROCHESTER, SHERWOOD, SHIPSHEWANA, SOUTH WHITLEY, SWANTON, SYRACUSE, TOPEKA, TRI-LAKES, WARSAW, WAUSEON, WINAMAC, AND WINONA LAKE.
Details

Written by

Brandon M Heishman

Category: Weather Reports
Hits: 431
Published: 6/26/2020 @ 11:32 PM – Updated: 6/26/2020 @ 11:32 PM
Severe Weather Statement Issued by NWS NorthernIndiana (Northern Indiana and Northeastern Ohio)
Indiana Target Area: Fulton, Kosciusko, and Marshall Counties.
At 1044 PM EDT, a severe thunderstorm was located over Bourbon, or 10 miles south of Bremen, moving east at 70 mph.
At 1056 PM EDT, a severe thunderstorm was located over Warsaw, moving east at 50 mph.
HAZARD: 70 mph wind gusts.
SOURCE: Radar indicated.
IMPACT: Expect considerable tree damage. Damage is likely to mobile homes, roofs, and outbuildings.
Locations impacted include: Warsaw, Plymouth, Winona Lake, Walkerton, Bourbon, Argos, Culver, North Webster, Pierceton, Mentone, Koontz Lake, Walnut, Tippecanoe, Etna Green, Leesburg, Claypool, Burket, Sidney, Hoffman Lake, Atwood, Big Barbee Lake, Ridinger Lake, North Webster, Pierceton, Mentone, Etna Green, Monoquet, Irish Lake, Beaver Dam Lake, Sevastopol, Beaver Dam and Little Chapman Lake.
HAIL...<.75IN
WIND...70MPH
Instructions: For your protection move to an interior room on the lowest floor of a building.