Details

Written by

Brandon M Heishman

Category: Weather Reports
Hits: 650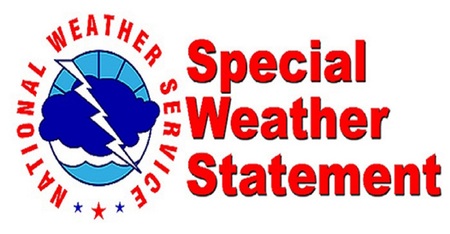 Published: 03/26/23 @ 8:34 PM – Updated: 03/26/23 @ 8:34 PM
Special Weather Statement Issued by NWS NorthernIndiana (Northern Indiana and Northeastern Ohio)
Indiana Target Area: De Kalb, Eastern St. Joseph, Elkhart, Fulton, Lagrange, Marshall, Noble, Northern Kosciusko, Northern La Porte, Pulaski, Southern Kosciusko, Southern La Porte, Starke, Steuben, and Western St. Joseph Counties.
Strong thunderstorms will impact portions of Elkhart, Noble, northern Kosciusko, Lagrange, southern La Porte, Steuben, St. Joseph Indiana, northwestern De Kalb, northwestern Fulton, Pulaski, Starke, Marshall, southeastern Cass, St. Joseph, Branch and western Hillsdale Counties through 930 PM EDT/830 PM CDT/.

At 811 PM EDT/711 PM CDT/, the public reported and radar indicated strong thunderstorms along a line extending from Union City to near Dunlap to near La Crosse. Movement was east at 30 mph.
HAZARD...Winds in excess of 40 mph and half inch hail.
SOURCE...Radar and Public.
IMPACT...Gusty winds could knock down tree limbs and blow around unsecured objects. Minor damage to outdoor objects is possible.

Strong thunderstorms will be near...Union City around 815 PM EDT. Bristol and Hamlet around 830 PM EDT. Other locations in the path of these storms include Middlebury, Koontz Lake, Walkerton, Constantine, White Pigeon, Plymouth, North Liberty, Sturgis, Lakeville and Bremen. This includes the following highways...Interstate 69 in Indiana between mile markers 340 and 357. Interstate 69 in Michigan between mile markers 1 and 21. Interstate 80 in Indiana between mile markers 79 and 154.
MAX HAIL SIZE...0.50 IN
MAX WIND GUST...40 MPH
Instructions: If outdoors, consider seeking shelter inside a building.